How to protect watersheds
Your local watershed is a vital source of clean water for the homes and habitats in your community. And yet it is threatened every day by routine pollution and unchecked water waste. Luckily, each one of us can take action to protect our watersheds, by making minor lifestyle changes and/or getting out there to clean things up.
Urban creek full of litter. Source: neilonradio; Instagram via Twitter.
Community Connections
It's easy to simply walk on by when you see a creek clogged up with plastic bottles and old tires. But accumulation of trash can cause permanent damage. Step in to prevent this by reaching out to local environmental action coalitions, nonprofits, and government agencies. They want to clean things up as much as you do! Even if you don't personally identify a site that needs help, you can reach out to these different groups and volunteer your time with them. In addition to Creeklife, try checking out the EPA's Cleanups in my Community program and Earth911 for ideas and action areas.
Organize Crowdfunding
Are there no resources to help solve a problem affecting your local watershed? Be the solution! If you need funds to get started, asking others for a helping hand or a donation can go a long way. You can crowdfund any project by alerting others of the situation online, in person, or through word of mouth. Don't be afraid to connect with local businesses. Creeklife exists to provide a platform for this process!
Clean Up a Superfund Site
Superfund sites have specific environmental issues that involve watershed care. These are places that the EPA has deemed dangerous or grossly polluted due to a specific party's negligence. Many of the sites have been destroyed by hazardous waste, which can threaten the health of surrounding neighborhoods as well as flora and fauna. Visit Superfund Community Involvement to see if there is a site in your area that is being reviewed for clean-up or rebuilding. You can be part of the revitalizing process.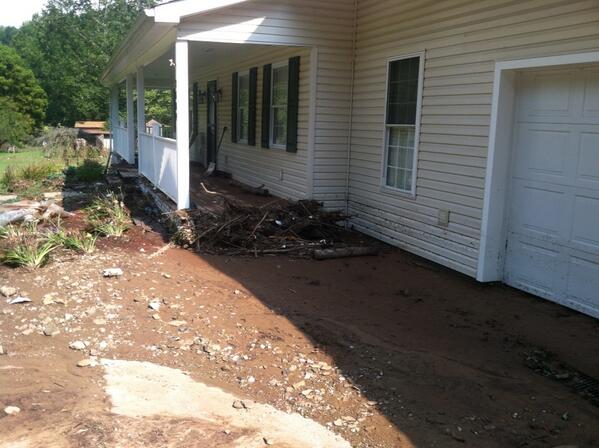 Olivia Fecteau: "This vacant home on Smith Creek Rd is flooded after the culvert next to it clogged and overflowed."
Publicize the Need
Any sort of trash and pollution can end up harming your area's watershed. Miscellaneous debris is dangerous to animals and humans alike. On Creeklife, people are connecting with each other to support initiatives that will clean up watersheds in their own backyards. For instance, Lefthand Creek in Boulder, CO. There is also plenty of information about current watershed pollution, such as carbaryl in the Grand River and harmful algal blooms on Lake Erie.
All of these resources, both on Creeklife and elsewhere, empower you to rally like-minded people in your area. You can publicize clean-ups or events that you are a part of, e.g. Superfund work. There are options to seek crowdfunding for any problems you want solved. Browse Creeklife and its community for more ideas about how you can help save our watersheds, and therefore protect our future.